Muskies have been a preferred fishing species of mine for more years than I can remember, and in many states plus Ontario and Quebec, and it's my strong belief they are the most unpredictable, ornery, cantankerous and frustrating fresh water game fish in North America.
They hit well one day, but may then go several days before they decide to hit again. Sometimes they will follow a lure to the boat, look it over and sink out of sight with total disdain.
The result can be a bit like a baseball game. No hits, no runs, no errors, but in this case, no fish either.
Muskies are born with a nasty disposition, and they never seem to lose it.
They are finicky to an extreme, and each day the angler fishes, he believes this will be the one day he has waited all his life for. Once the day ends without a muskie or a strike, most anglers become mildly dejected. Some even quit fishing.
That soon passes as fishermen assume the philosophy: Well, maybe they will hit tomorrow. Sometimes they do but more often than not, they do not.
Muskie Fever affects different people in oddly different ways. It's difficult for non-fishermen to understand that year after year, muskie fans will return to their favorite waters with high expectations. All they want is one legal muskie, but unless one fishes Michigan's Lake St. Clair, that can be as lofty a goal as hitting the Lotto jackpot.
Lake St. Clair, on the Michigan-Ontario border, is the lake of choice for many catch-and-release muskie anglers. Many of these fish are caught trolling, and that's fine. However, some anglers will stand and cast crankbaits, jerkbaits and spinnerbaits until their arm wears out.
For this latter group, catching a legal muskellunge is one of fishing's most difficult pursuits. It's even more difficult to catch a legal fish, but Lake St. Clair is producing some 50-inch fish. Anyone who has fished for muskies more than once know that a fish that size doesn't come along very often.
Stand-up casting has been my forte for many years, and I enjoy pitching a big plug or spinnerbait out, time after time, and it's important to note a following fish can be as meaningful to some anglers as catching one.
Trolling is a terrific way to catch Lake St. Clair muskies, and I've had days with Captain Steve VanAssche of Harrison Township (586-783-8985) where our crew has landed over 20 muskellunge in one day. Some are smaller than legal size, some are just legal, and on occasion a fish weighing 30 or more pounds is caught. Planning ahead for a big fish is a waste of time. Put in enough hours, and you may catch a 30-pounder. Fish more often, and a 40-pounder is conceivable, and on odd occasions, some lucky angler may land a larger trophy.
The trick with trolling is using planer boards, and three lines are legal in Michigan waters while only one line per angler can be used in Ontario. Put six people aboard a boat, and you have six or 12 lines out, depending on where you fish, and it increases the odds of hooking a nice fish.
Trolling produces more fish but large fish can be caught by casting.
Muskie lures are basically large, and small ones are six inches long while large lures can be nine to 12 inches or longer. Oddly enough, Lake St. Clair produces some good fishing from the Fourth of July through October and November, depending on weather conditions. I've been on the lake on several occasions in truly bad weather, and it isn't any fun.
The lake is large and shallow, and eight-foot waves are not uncommon, and the waves tend to run close together. This can lead to slow and easy trips back to the dock. The International boundary runs basically down the middle of the lake, but fishing laws are vigorously enforced on both sides of the border. It's wise to plug in the boundary on your GPS unless you have Michigan and Ontario licenses.
There are any number of good trolling lures. The Wyle us a good plug, as are Homer LeBlanc's Swim Whiz and other similar lures like muskie sized Rapalas.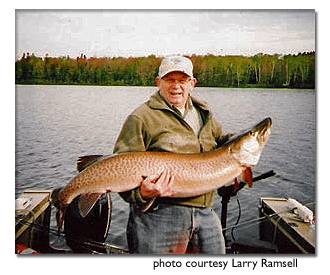 Noted muskie angler Larry Ramsell with a 43-pounf Great Lakes muskellunge from Munuscong Bay in the Upper Peninsula.
photo courtesy Larry Ramsell
Casting anglers have a wider choice of lures. They can buzz spinnerbaits or bucktails fast over the tops of weedbeds. Depth Raiders, sinking Rapalas, muskie sized Rebels work well, and Dardevles and Red-Eyes produce, but there are many other lures that will work.
The stand-up-and-cast angler is a glutton for self-inflicted punishment. He or she will stand, hour after hour, and make one cast after another. If a following fish is seen but doesn't hit, they try a different lure or different color. No hits, they return every two hours in hopes of raising the fish again. Do it often enough, and a fish may hit.
They do a Figure 8 or Letter J rod-tip movement with the underwater lure at the side of the boat at the end of every cast, and once in a great while this method will produce a strike. It's been my experience that most muskies that hit near the boat are never seen until they arrow up from bottom and slam the bucktail or other lure. It can be pretty spectacular,
My best time for catching muskies is between 10 a.m. and 2 p.m.
There are numerous good muskie lakes in Michigan for the angler that prefers to cast. Budd Lake at Harrison is a good bet, as is Skegemog Lake near Traverse City. Other lakes near Skegemog that produce the occasional muskie include Elk, Intermediate and Torch.
Lac Vieux Desert on the Michigan-Wisconsin border is a great lake and noted for its big fish. Iron Lake in Iron County produces some big fish, and Munuscong Bay in Chippewa County is another steady producer.
Indian River between Burt and Mullet lakes produces some fish. Long Lake at Traverse City produces very few muskies but those that are caught here will weigh 30 pounds or more.
Muskie fishing can be an addiction. What anglers become addicted to is not the fish as much as that heart-stopping strike, the feeling of tremendous power as a big fish strips heavy line off the reel, and the effort required to pump that hooked fish off bottom.
Sometimes the muskie will come to the boat, open his mouth, and the big lure will fall out. The fish slowly sinks from sight, and that hooks the angler again. We fish muskies, not just for the fish but for the adrenalin rush that comes when we have a solid hook-up.
The only cure for this malady is to go fishing again and again. The more time an angler spend on the water, the greater his chance for success. Muskie, slimy and ugly, grab hold of our emotions and only death or infirmity rids us of this passion.